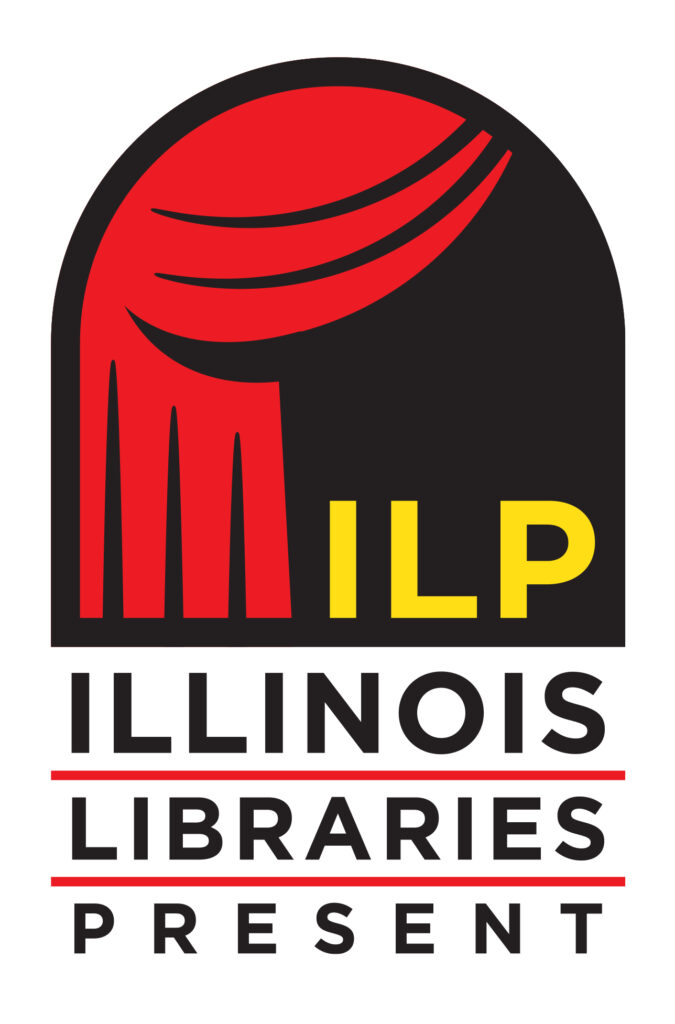 Stinson Memorial Public Library District is a proud member of Illinois Libraries Presents. Illinois Libraries Presents offers access to incredible virtual programming to participating libraries. One of the organization's main goals is to provide high-quality, high-profile events that highlight national names and social justice/DEI issues, that would otherwise be cost-prohibitive for single libraries to hold on their own.
Upcoming Events:
________________
Join Maya Camille Broussard, star of Netflix's Bake Squad, owner of Chicago based Justice of the Pies, and cookbook author, for a demo from her kitchen. Just in time for Thanksgiving, Chef Maya-Camille will share her love of pie, stories of those that inspired her, and tips and tricks to help you make the perfect pie. 

Broussard uses her love of food to have a positive impact on the local community. She offers an "I Knead Love" workshop several times each year for children from lower-income communities to learn basic cooking skills, healthy eating habits, and nutrition. She founded Justice of the Pies in 2014, to honor her late father, The Pie Master. The bakery with a social mission has partnered with many Chicago area charities to provide meals for communities on the South and West sides and with Frontline Foods, to provide food from restaurants for front-line workers during the COVID pandemic. Her first book, Justice of the Pies: Sweet and Savory Pies, Quiches and Tarts Plus Inspirational Stories from Exceptional People, was published in 2022. In the summer of 2023, Broussard opened her first Justice of the Pies storefront on the South Side of Chicago to rave reviews. Being hearing impaired, Broussard works hard to set an example for young bakers by telling the story of her struggles and success, and works to celebrate the atypical through her baking.
________________
Join us for a in-person watch party with snacks and crafts at Stinson Library on Wednesday, December 6 at 6:30 p.m.

Lori Gottlieb, New York Times bestselling author of Maybe You Should Talk to Someone, and co-host of the "Dear Therapists" podcast joins us for a thought-provoking conversation about mental health in anticipation of the winter holiday season.

Gottlieb will share tools to help in everyday life and especially as you prepare for the holidays. Lori Gottlieb is a psychotherapist and New York Times bestselling author of Maybe You Should Talk to Someone, which has sold over a million copies and is currently being adapted into a television series. In addition to her clinical practice, she is co-host of the popular "Dear Therapists" podcast and writes The Atlantic's "Dear Therapist" advice column. She has been on the Today Show, Good Morning America, CNN, and NPR's "Fresh Air" as a therapy expert and her 2019 TED Talk was one of the most watched of the year.
________________
Experience The Nutcracker at Home! Watch a Recording of the Famous Ballet
Get in the spirit of the season with a recorded virtual performance of Tchaikovsky's The Nutcracker performed by the United Kingdom's internationally renowned Royal Ballet. The ballet, a holiday staple for all ages, can be viewed Saturday, December 16, and Sunday, December 17. Registrants will receive an email with a special link to the performance. With sumptuous period designs, spellbinding stage effects, and Tchaikovsky's iconic score, the 2016 performance of The Nutcracker will enchant audiences of all ages. Performed by Britain's flagship ballet company, registrants can expect to see some of the most elite ballerinas in this performance.
________________
January 11 – Speculating our AI Future with Cory Doctorow, Ken Liu, and Martha Wells
February 6 – Meet American cartoonist Jerry Craft to learn how to draw your own comics
February 20 – #1 New York Times bestselling author Julia Quinn helps us feel the romance all month with a discussion about Bridgerton and all things romance
NEW! March 20 – Academy Award winning costume designer Ruth E. Carter explores the passion that inspires her pieces spanning Spike Lee costume design to Wakanda
April 3 – Dr. Temple Grandin shares on the gifts of neurodiversity
May 7 – Writer, producer, former White House staff member Kal Penn closes Season 3
_______________
These events are made possible by Illinois Libraries Present, a statewide collaboration among public libraries offering premier events. ILP is funded in part by a grant awarded by the Illinois State Library, a department of the Office of Secretary of State, using funds provided by the U.S. Institute of Museum and Library Services, under the provisions of the Library Services and Technology Act (LSTA). ILP is committed to inclusion and accessibility. To request accommodations, please email [email protected].
_______________