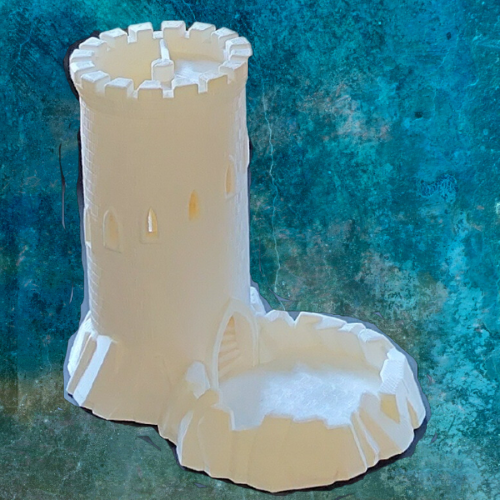 3D Printing Policy
Stinson Memorial Public Library District offers 3D file printing using its QIDI iMates printer.
The library's 3D printers may be used only for lawful purposes.
They may not be used to create



weapons or materials that are prohibited by local, state, or federal law

Any item that is unsafe, harmful, dangerous, or which pose an immediate threat to the well-being of others

Items deemed inappropriate for the library environment

Any item that violates another person's property rights

For example, the printers will not be used to reproduce objects or materials that are subject to copyright, patent, or trademark protection

Anything that may violate the terms of use of the manufacturer
Anything that may be in conflict with any other Library policy or procedure
SMPLD Print Requirements
Print jobs may not exceed 500g, if a file is too large, it will be resized to meet that requirement. Library staff reserve the right to resize any project unless dimensions are specific in the request.
Designs must be saved as a .stl, .obj, or .thing file format
The print object must be smaller than 10.24"x7.87"x7.87'inches. Costs will be determined on a print-by-print basis.
Printing is available on a first-come, first-served basis and is coordinated by the SMPLD staff. Priority printing will be given to library programs and events. Patrons are only allowed one print request at a time.
Library staff will review every object file before it is printed, and the library reserves the right to refuse any 3D print request.
The printer will only print an object in a single color. Color preferences may be submitted, but the library will determine the color of the filament based on availability.
Print jobs may take up to two weeks to complete. Due to the amount of time it takes to print an object, the number of requests received and staff availability, the library will not guarantee that a print job will be ready by a specific time.
The Library is not responsible for failed 3D prints, although we will do our best to assist in completing successful 3D prints.
SMPLD will not be liable for functional failure of or injuries or property damage caused by objects or materials made through the use of 3D printers. The library strongly recommends that 3D printers not be used to make things that could prove harmful, or that would result in significant cost to the user if they fail.
Printing Costs
SMPLD will print 3D objects at cost of the filament used to create the print. Currently, prints cost $0.03 per gram with a minimum $1 printing fee.
Prints will fluctuate in weight depending on how dense you design the object or of the infill (structure inside of the object.) The more dense the infill the sturdier and heavy the printed object.
All prints must be paid for by cash or check at the time of retrieval. Prints left unclaimed for over 2 weeks will be placed for sale at the cost of the print. Failure to retrieve a print may block patrons from using this privilege in the future.
Procedures
The procedure for printing from the Library's 3D printers is as follows:
Design creation:

Digital designs are available from various file-sharing databases such as Thingiverse.com, YOUmagine, MyMiniFactory, and ShapeWay to download 3D objects that can be printed.
Any 3D drafting software such as TINKERCAD, 123DDESIGN, SKETCHUP, and BLENDER can be used to create objects.

Submitting a design for printing:

Print requests will be brought on a USB drive containing their file (in .stl, .obj, or .thing file format) to the Circulation Desk during regular operating hours or patrons can fill out a print request through the library's website.
Once the print job has been completed, the patron will be notified by a Library staff member and the items may be retrieved at the Circulation Desk.
Policies governing the use of the Library's 3D printers are subject to change at any time.